A few months ago...10's a few isn't it? I cut into a favorite jelly roll to make this quilt: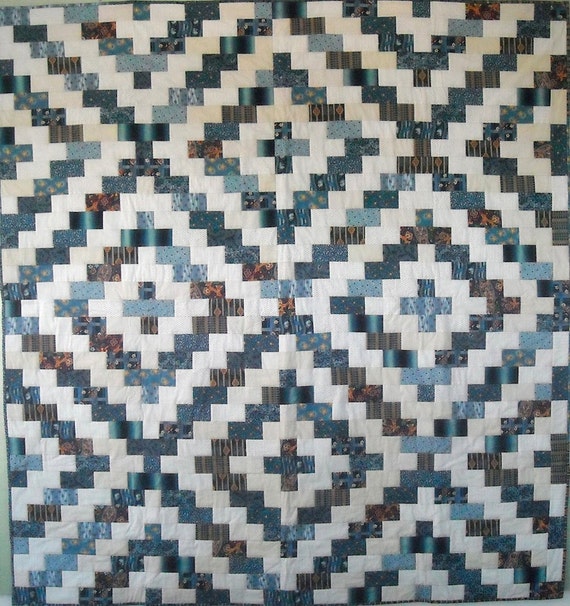 Shelly, over at Prairie Moon Quilts, designed this pattern and I have to brag about it. What a fun and fast and striking pattern!
I'm determined to make a dent in my jelly roll stash so I pulled out my Moda, Breath of Avignon, by American Jane. This is an older line...I don't know, maybe 5 years or so? Probably older because I think when I found it, it was already a few years old and these jelly rolls were all I had seen. I love the crisp colors and patterns and I'm glad I finally found the perfect project that convinced me to untie that ribbon and start sewing strips:
Shelly does a wonderful job of walking you through the steps and she even includes a very helpful page of labels to keep your strips organized. Thanks for doing that, Shelly! I was running woefully short of my background fabric because I was just using what I had, but managed to squeak by with not an extra thread to spare. I settled on a blue and white from my stash for the backing:
And fought the wind in an attempt to snap a few pictures:
It just whipped it right off of the clothesline
So jumbo office clips and my trusty chicken coop yard fence were called into action:
We've been up since 3 this morning and posting these now, makes me think this might be a good time to break this quilt in
with a nap.
Its 71" x 73" ...perfect nap size. Jackie quilted a fun leaf design across it that is hard to see on these fabrics, but it adds that incredible texture that is always the perfect finishing touch:
I'll be making this one again. I'm thinking something out of the box for me...maybe brights and black on white prints. You can have one for your very own too -
just click right here
and Shelly will fix you right up.
This is finish #7 for the year...progress!